Here is a notification received from Voice Distributions LLC and Sessoms Group regarding the postponement of the 14th Annual Classic R&B Weekend scheduled for Dec 4th-6th 2020.
Greetings friends and family of the annual Classic R&B Weekend,
"We are listening, we have heard from you, and now we are speaking to you from our hearts. Out of an abundance of caution, care, and concern for you, our esteemed and cherished supporters of the greatest Classic R&B Weekend in the entire world, we are putting pen to paper and praying that everyone is safe and healthy. Unfortunately, this pandemic we have come to know as the coronavirus (COVID-19), has led to a need for social distancing in an effort to prevent the spread of this disease and has temporarily changed our world in ways that we could not have imagined. We understand that the world is experiencing interesting times that are causing health issues and financial hardship for many people. Voice Distributions LLC and The Sessoms Group, Inc. are aware and extremely sensitive to the adversities some of you may be encountering as we too are subject to some of those same difficulties. Though we assumed the pandemic would be under control by now, it appears we still have months ahead of us until it has run its course, something that we feel confident will occur. In light of the current situation, temporary outlook, and serious concern about the health and well being of our supporters, including but not limited to the more than 1,100 plus current registrants, performers, and event personnel; we feel it would be negligent on our part to proceed with the event at this time.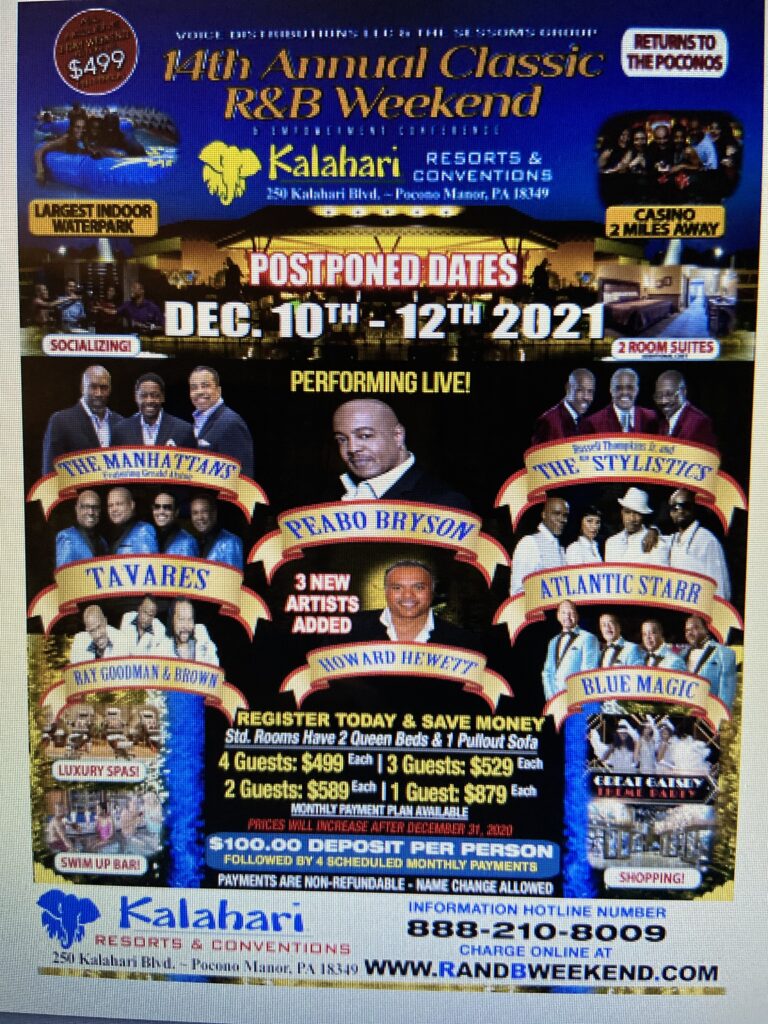 We have arrived at the decision to NOT cancel, but to postpone the 14th Annual Classic R&B Weekend scheduled for December 4, 5, 6, 2020 to December 10, 11, 12, 2021. While the existence of COVID-19 is unfortunate, the timing has afforded us the opportunity to make the event even more spectacular. We have added Howard Hewett, Ray, Goodman & Brown, and Blue Magic to the already star-studded weekend, to perform at a special Friday night concert!"  Please purchase your  tickets early https://randbweekend.com/
It's going to be a great show, don't miss out.