Purchase Concert Only Tickets or Concert and Party                                                        Entertainment Packages!
" Peabo Bryson, The Manhattans, The Stylistics, Tavares, Atlantic Starr, Blue Magic, Ray Goodman and Brown, and Howard Hewitt will be there all weekend.
FRIDAY night theme party is The Roaring 20s, Harlem Nights style. with 3 groups performing and an afterparty with buffet.
SATURDAY activities during day evening semi formal dinner before the 5 group concert, followed by an afterparty and buffet.
SUNDAY Gospel buffet breakfast and say, see you next year to all the new friends you made, and of course the performers.
Make this your family reunion, class reunion, birthday, anniversary celebration like never before Have your picture and name display on the screens during concert.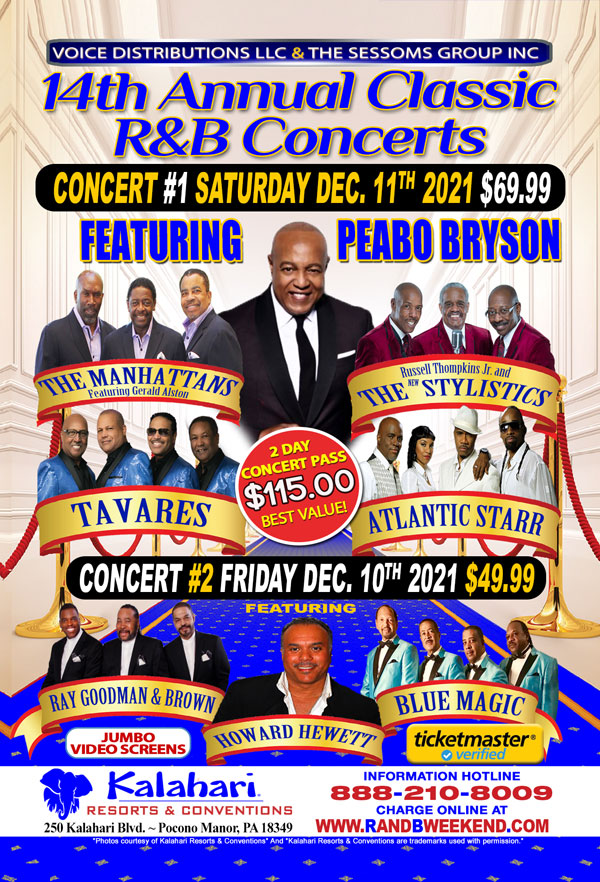 Buses leaving from Springfield MA 8am and stopping along 91S at designated area in Connecticut for those interested.
345.00 p/p is the deposit, balances are made in 2 monthly payments final by Oct 30th deadline. $856.00p/p 2 per room or $707.p/p 4 per room.
This is an ALL INCLUSIVE WEEKEND. Transportation, 4 days 3 nights hotel, 5 meals, 2 concerts, 8 groups , jazz, comedy, dance classes, workshops and so much more all for one low price under one roof.
We go a day early before activities start to enjoy the beautiful resort, mall, waterpark, bowling, restaurants, spas, 3 miles away is Mount Airy Casino Resort where we'll also be staying.
You don't want to miss hanging out with the groups all weekend and getting to know the people that sang the songs we love. 8 groups 1 weekend. " IF YOUR INTERESTED IN PURCHASING TICKETS CLICK ON THE LINK TODAY: 
https://randbweekend.com/