If you love Jazz, the Newport Jazz Festival is the music festival you want to be at every summer. This is one of the best music festivals throughout the East Coast and the weekend of  August 2-4 they celebrated their 65th Anniversary. The energy level is high and the line up of artists are phenomenal. The festival held every summer at the Ft. Adams State Park features approximately 20 talented musicians daily (legendary and new )performing on four different stages (Fort Stage, Quad, Storyville and Harbor). This years festival was not only remarkable, but it was also outstanding. The weather was impeccable and beautiful.
Fort stage @ Newport Jazz Festival  (Photography By L. Barnes)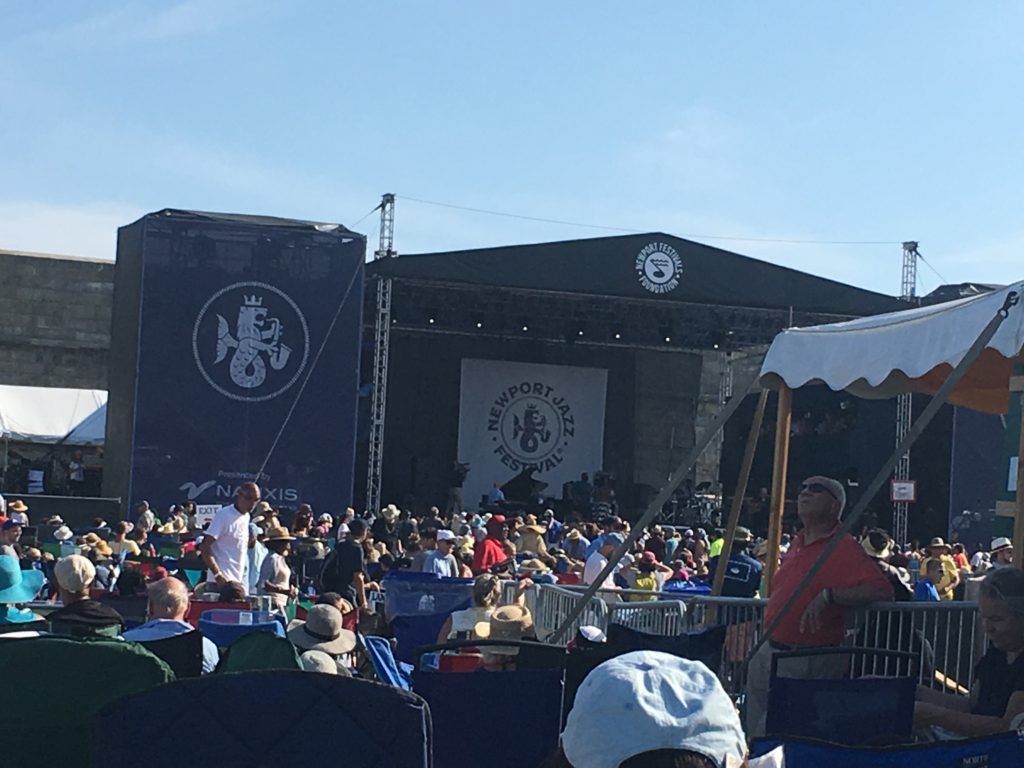 The panoramic views of Newport Harbor make coming to the Jazz Festival a great vacation getaway for the weekend.   There are plenty of food vendors to please that palet, crafts, two   beer, and wine gardens as well as a number of exhibitions and plenty of great music.  The Newport Jazz Festival is sponsored by  Natixis Investment Managers and from 1984-2008 was known as the JVC Jazz Festival. 
Newport Harbor (Photography by L. Barnes)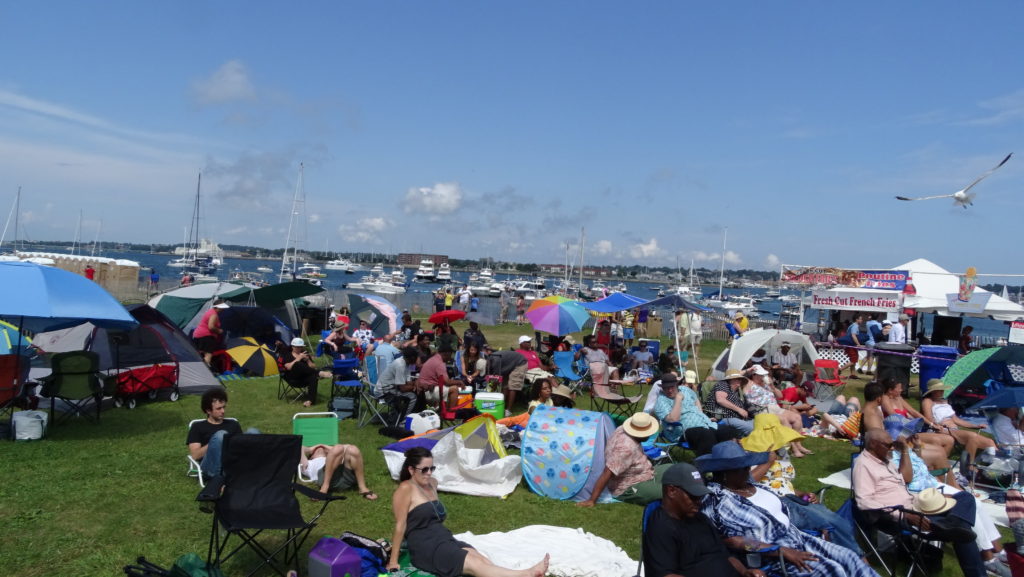 This years lineup and headliners included the legendary Herbie Hancock, Dee Dee Bridgewater, Dianne Reeves, Kamasi Washington, and a host of many other great and emerging artists like Tank and the Bangas, P.J. Morton and Cecile Mclorin Salvant.
Over the years as Jazz found it's home in Newport, the festival was billed as the "First Annual American Jazz Festival". The appreciation for Jazz was not as common within the well-rooted communities and it brought a much younger fan base to the Newport area which increased it's popularity and became a complete success.  As the legendary Wynton Marsalis said, "Jazz music is the power of now."   
Fort Adams State Park Festival Grounds and Harbor View ( Photography by L. Barnes)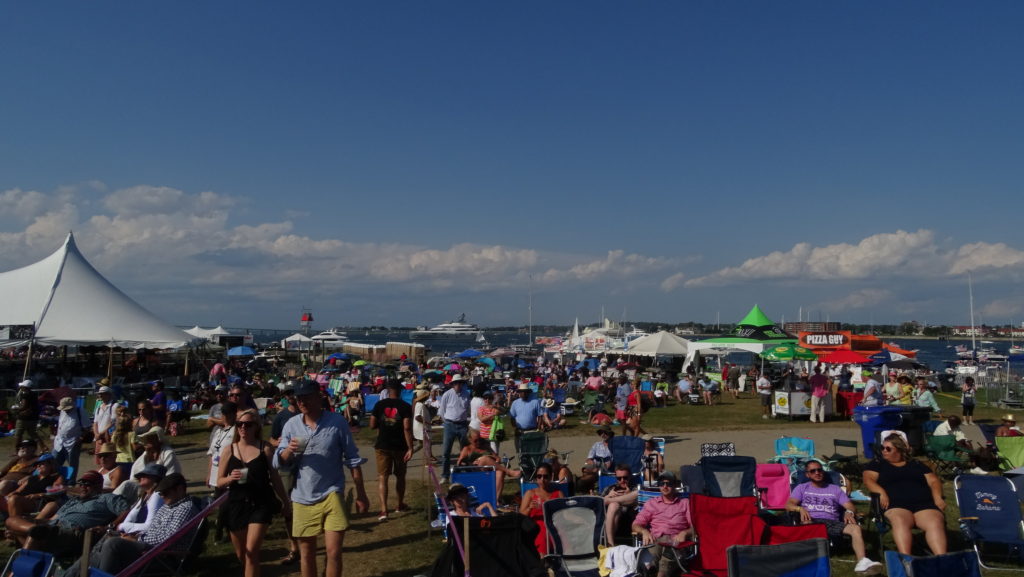 Blending Soul & Jazz with lots of energy, veteran singer Dianne Reeves is a major regular at most Jazz Festivals. Here she is performing at the recent Jazz Festival in Newport R.I.   An American Jazz singer that blends her skillful musical sound so well that many compare her to the likes of Regina Belle, Patti Austin, and Anita Baker.  (Photography by L. Barnes)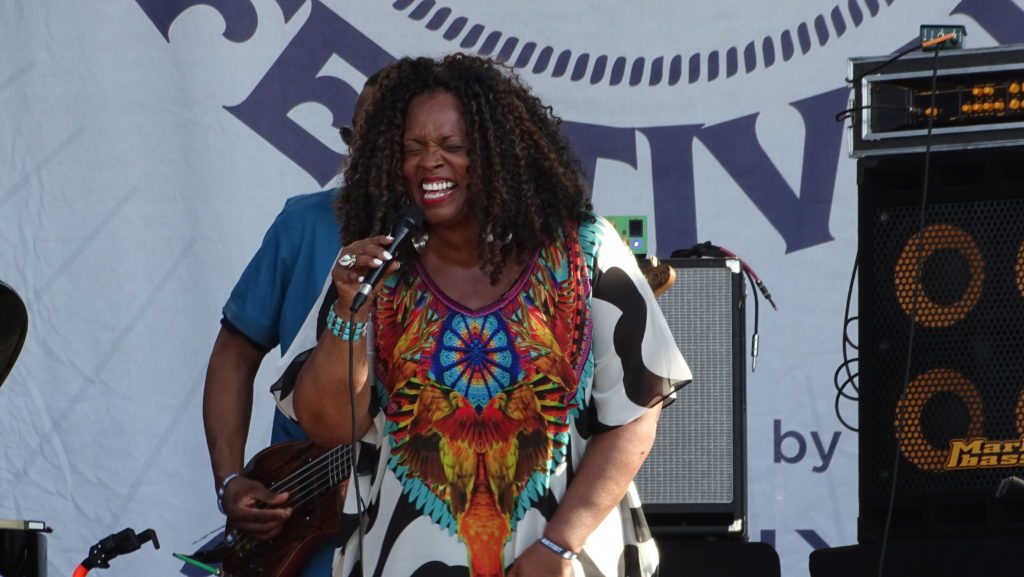 "Common" doing one of the things he does best on the Ft. Stage @ the 2019 Newport Jazz Festival headlining and closing the show. He has maintained a following since the early '90s. Launching his career to new heights, this socially and politically conscious actor, writer, rapper and philanthropist made Kanye West and Chance the Rapper possible.  ( Photography by L. Barnes)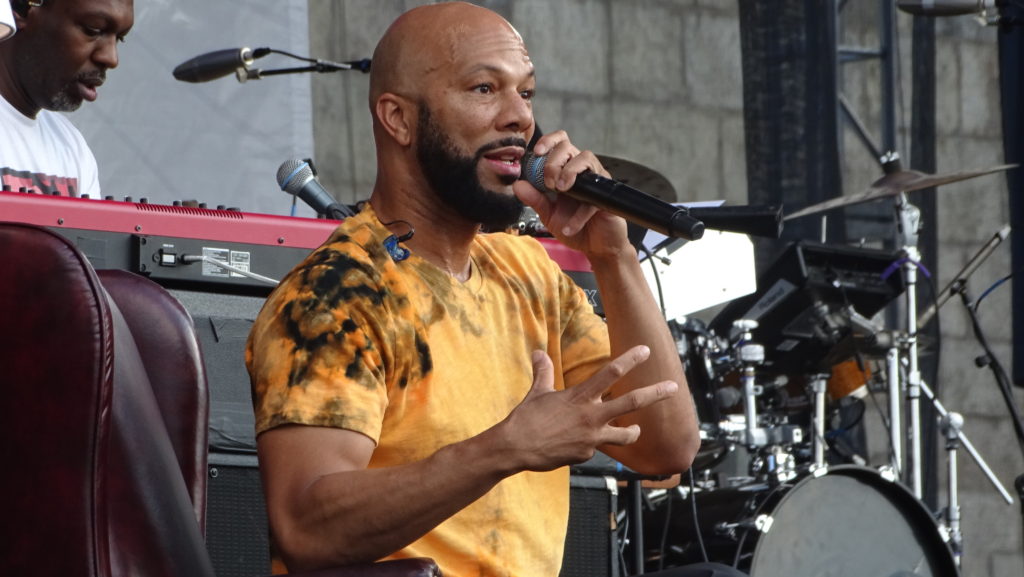 "Ghost Note" performing on the Harbor Stage @ the 2019 Newport Jazz Festival!  Who doesn't love "Ghost Note".  They are a high energy band that includes "Snarky" Puppy's" percussion duo Robert "Sput "Searight and  Nate Werth. You couldn't miss bassist MonoNeon (The name is all over his clothes ).  This right-handed bassist plays left-handed upside down on a right-handed bass guitar, which allows him to use heavy string bending on the upper strings (Now that's talent).
 Ghost-Note dominates an "Explosion" of great sound and are comprised of veteran musicians who have performed with greats like Herbie Hancock, Prince, Marcus Miller, and many other legendary artists. After seeing them perform for the first time, they will leave you with a feel-good charge of contagious energy. ( Photography by L.Barnes)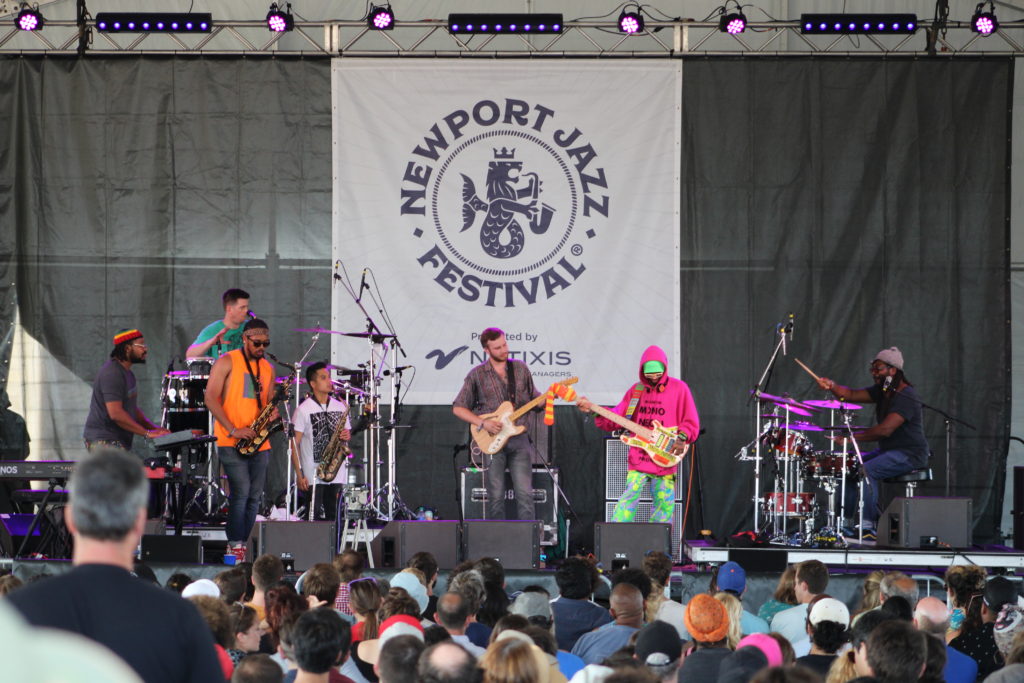 Jazz Saxophonist Kamasi Washington fuses the gap with jazz when he gained his fame with the hip-hop generation by playing his saxophone on rapper, songwriter and record producer "Kendrick Lamar's" "To Pimp A Butterfly" back in 2015.  Here he is performing at the 2019 Newport Jazz Festival. ( Photography by L. Barnes)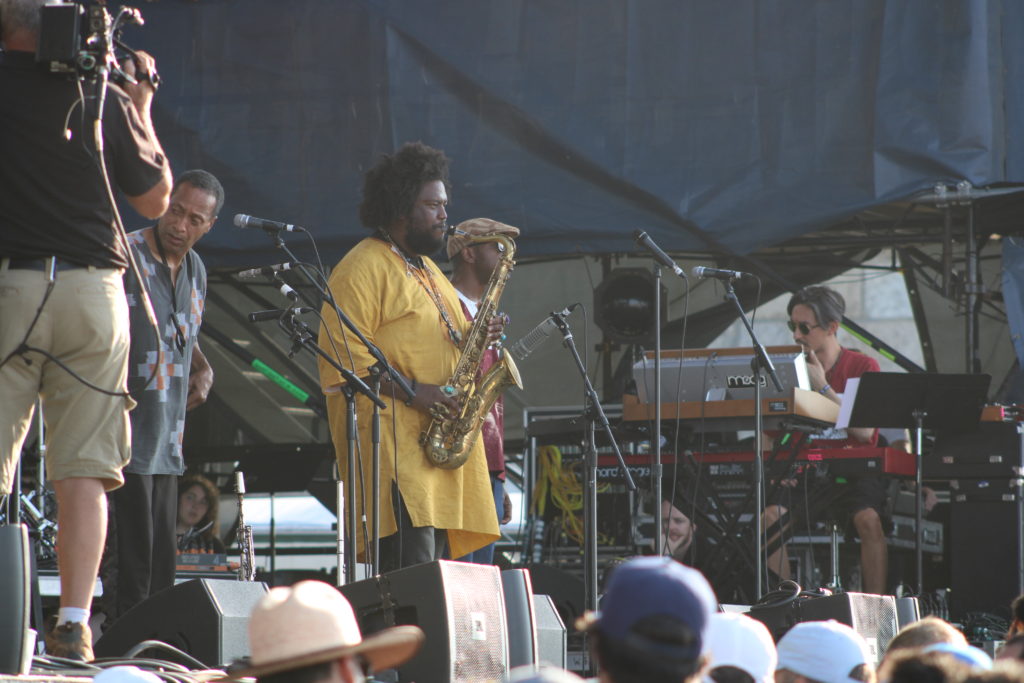 "Buika "captivating her audience @ the 2019 Newport Jazz Festival Fort Stage. Buika is no stranger to the Jazz scene. She has been gracing the stage since 2000 in many countries of the world. Born in Spain and currently residing in Florida, her musical style is one of many genres which includes, Jazz, Copla, Soul, and Flamenco. The road this Spanish singer is on has led her to be nominated in 2008 for a Latin Grammy award for Album of the year and in 2014 for Best Latin Jazz Album at the 56th Annual Grammy Awards. Buika is a must-see vocalist who creates an amazing musical experience for her audience. (Photography by L. Barnes)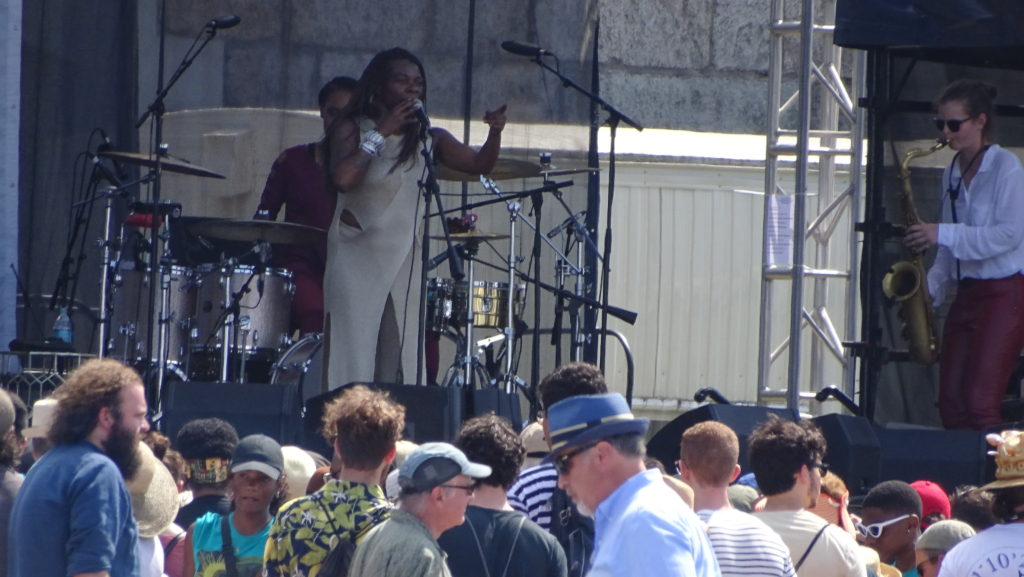 The legendary Herbie Hancock's is no stranger to Music Festivals. His performance at the 2019 Newport Jazz festival was amazing and astonishing especially since he performed in a trio with outstanding acoustic bassist Christian McBride and drummer Vinnie Colaiuta.  At 79, Hancock is still performing strong and continues passing on his musical knowledge to the next generation.  ( Photography by L Barnes)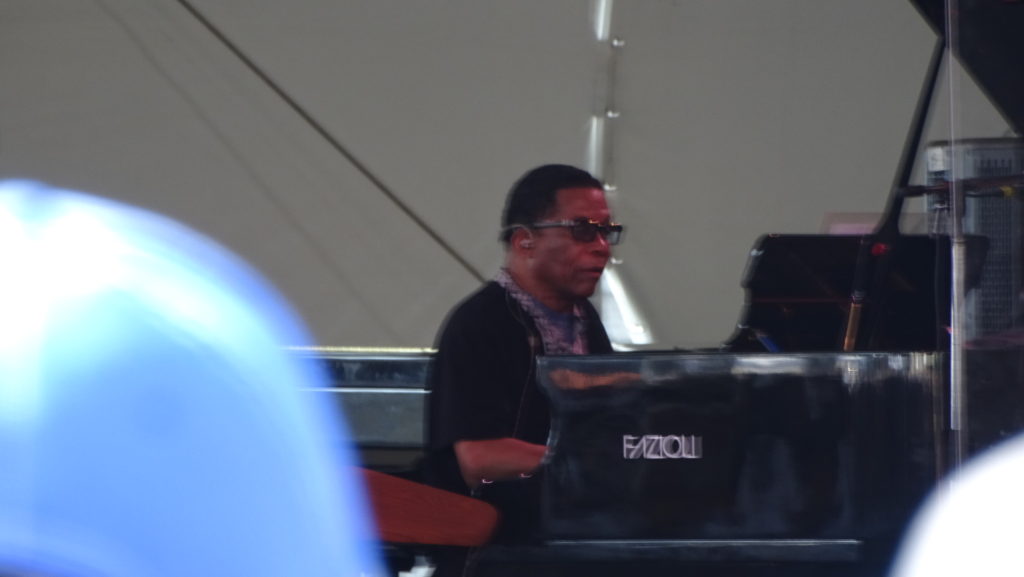 Dee Dee Bridgewater is a Jazz Artists who wears many hats. The Singer, Actress, Good-Will Ambassador, Producer, and  Radio host; created a memorable moment when she took the audience back to the Civil Rights era with reference to the "Little Rock Nine" and taking the audience members back in time to the Staple Singers 1966 song "Why"( Am I Treated So Bad)  Here she is performing on the Fort Stage @ the 2019 Newport Jazz Festival sponsored by Natixis Investment Managers. (Photography by L. Barnes)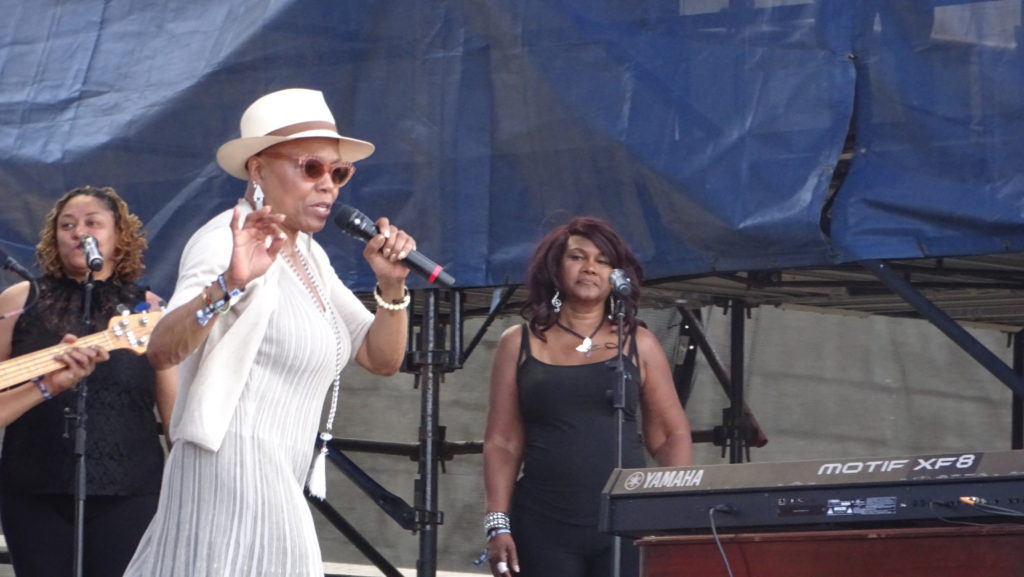 Tank and the Bangas, this Hip-Hop, Rock, Soul and Spoken Word group met at a New Orleans open Mic show called Liberation. They have been gracing the stage since 2011, this group has become a phenomenon due to their ability to blend Hip-Hop, Jazz, Funk, Rock, and Soul all in one. Their performance at the 2019  Newport Jazz Festival was incredible, bringing the audience members to their feet. (Photography by L.Barnes)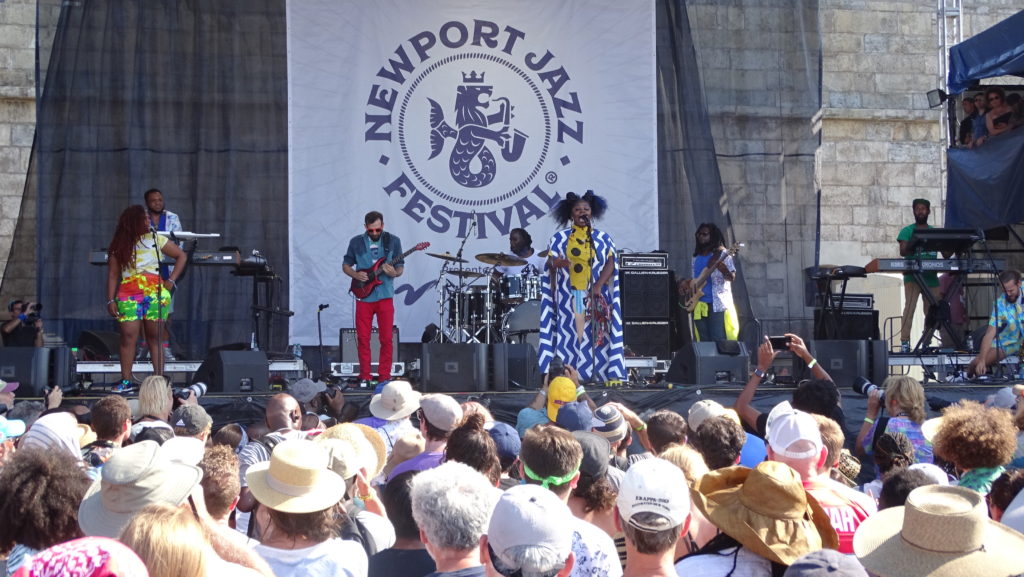 PJ Morton is a versatile and highly accomplished young jazz performer. His performance in the Quad at the 2019 Newport Jazz Festival was simply astounding. He has performed with "Maroon 5 since 2012  and continues to be an emerging Artists and work with such greats as Jon Batiste. He also won Grammy Awards for his songwriting and production on India Arie's "Interested" and won a Dove and Stellar Award in 2008.  PJ Morton is on his way to bigger and better things his album "Paul " was just released August 9, 2019, and he has a  new record label. (Photography by L.Barnes)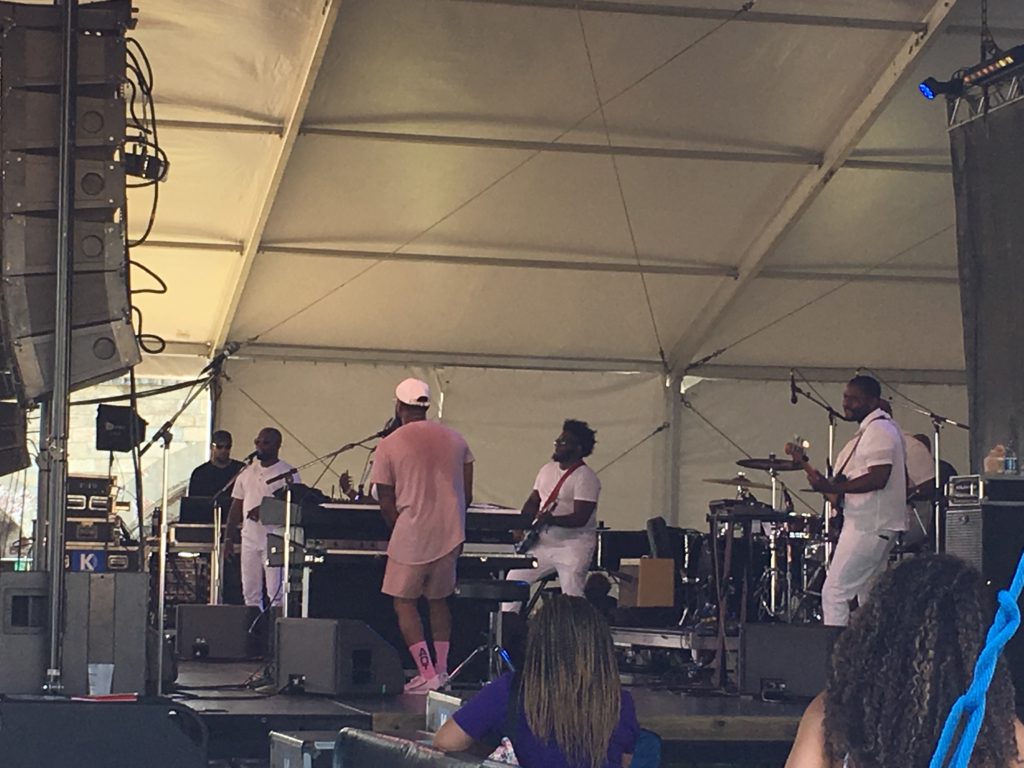 Belinda Barnes BackBeat R&B