BackBeat R&B is very pleased to do a Q&A interview with Jackie Poindexter. Jackie is the co-writer for the classic R&B song,  "Thin Line Between Love And Hate".   The song was sung by "The Persuaders" and spent two weeks at the top of the Billboard R&B chart in 1971.         
The song reached #15 on the Billboard Hot 100 chart and was a certified Gold Record by the RIAA. Along with Jackie, the song was written and produced by the Poindexter brothers, Robert and Richard, Jackie is Roberts's wife. Unfortunately, Robert passed in 2018.  "Thin Line Between Love And Hate " has been covered and sampled by so many artists and musical acts as well as included in the Film with Martin Lawrence and Lynne Whitfield in 1996.  Jackie, Robert, and Richard have worked with many amazing artists such as " The Manhattans", "Randy Crawford", "Florence Ballard", "Tina Marie" and many others.  We at BackBeat R&B are so honored to be able to interview one of the writers behind " Thin Line Between Love And Hate". 
Robert & Jackie @ the premiere of the movie "Thin Line Between Love And Hate" taking a Bow
BB:   " Thin Line Between Love and Hate" was and still is a big hit. Even though many years have passed most people feel this song takes them back to their old-school days. When this song was released, did you have any idea of the impact the song would make on music lovers around the globe?
JP:     The song was officially released in 1971 through Atlantic Records.  But before that, we were trying to get a budget with any record company, some months before we finish it. Finally, Mercury Records gave $273.00 for studio time.  After hearing the final project we hastily cashed bottles, even sold blood, etc to buy back the master when Mercury turned it down because they had the first refusal. Still, we felt we had a hit record on our hands! We just did not know how big and that one day it would be gold and later platinum on many cover versions.
BB:     What inspired you and the Poindexters brothers to write this song?
JP:    Love and Hate are elements in almost every relationship.  We felt like, we could never express these raw emotions enough.  One day while rehearsing as we always did, Bob, Richard, and I started on an idea that we called "Still Waters Run Deep"   the idea was so appealing that we quickly finished it in the studio but before we could get a deal,  another group called the "Four Tops came out with the exact same title!  After the initial shock,  we got in a huddle and came up with a new title called "Thin Line Between Love and Hate" which was even better.
BB:     How did you 3 team up to write songs together?  Is there a great story behind your songwriting?
JP:      The story goes:  In 1966, a young girl from the Robert Taylor Projects of Chicago's south side. I had no formal training; my creative juices had just started flowing at the tender age of 16. I had begun to enter talent shows when I heard an advertisement on the radio of a talent show coming up at the Regal Theater (our version of the Apollo).  I threw myself into rehearsal singing my favorite song "You Beat Me To The Punch" by Mary Wells. The night of the show I was very nervous but I pulled it off by making 3rd place.  A few weeks later, another show came up again at the Regal.
Could lightning strike twice? I decided to sing the same song again but, this time my number was 26th to perform.  By then a girl had picked my song to sing before me.  So I decided I needed a change of venue.  Big Mistake!  My song choice was a James Brown classic, "PLEASE PLEASE PLEASE"!!!  I should have known better.   My little squeaky voice shaking with fear could never pull that one off and I fell flat on my face.  That next month Jackie Wilson, one of my favorite artists was appearing at the Regal. I had a friend who worked backstage, I begged him to sneak me in.  I was amazed as I watched all the colorful clothes and beautiful girls in their costumes.  I heard music coming from one of the rooms, the door was open so I peeked in and there was Jackie Wilson smoking a joint and singing one of his songs as a man strummed the guitar while some of their friends clapped.  They invited me in and everybody took turns singing. When it got to me, I sang my favorite Mary Wells song and they were very impressed. A man named Alonzo Tucker was Jackie's Chief writer. He asked me if I had ever been to New York.  The rest is history.  When the show closed at the end of the week.  Alonzo came to the Projects to meet my family.  Through much persuasion, my mother signed papers after speaking to a lawyer.   In New York, I met two brothers who were to be my tutors. Little did I know that one would become my husband and I would eventually become a songwriting partner!!  (excerpt is taken from my memoirs)
BB:     When you, Bobby, and Richard collaborated on any of your songs, did one of you write the music, the other the lyrics?
JP:      My stay in New York was much longer than two weeks.  Alonzo paid for me a room in an entertainer's hotel called "The Alvin"  on 52nd and Broadway in Midtown Manhattan. There he lived with his girlfriend.  The next morning Alonzo took me to Brunswick recording studio to rehearse and meet the Poindexter Brothers.  One was about 5'8″ light skin with a nice body. His name was Robert but everybody called him Bobby. The other one was shorter brown-skinned with a killer smile that lit up the room,  he was playing the piano and tapping out the beat with his feet.  His name was Richard.   When the brothers sang together they were dynamic! Robert appeared to be the leader and would give instruction to Richard in reference to tempo or notes.  I felt like I was in good hands. Soon I was showcasing all the songs for girls artists to help strengthen my voice and help prepare for my own singing career.  In our writings, we all contributed to the songs.
Jackie and Robert @ the Apollo with Mike Tyson, Reginald Hudlin (Producer of  "House Party")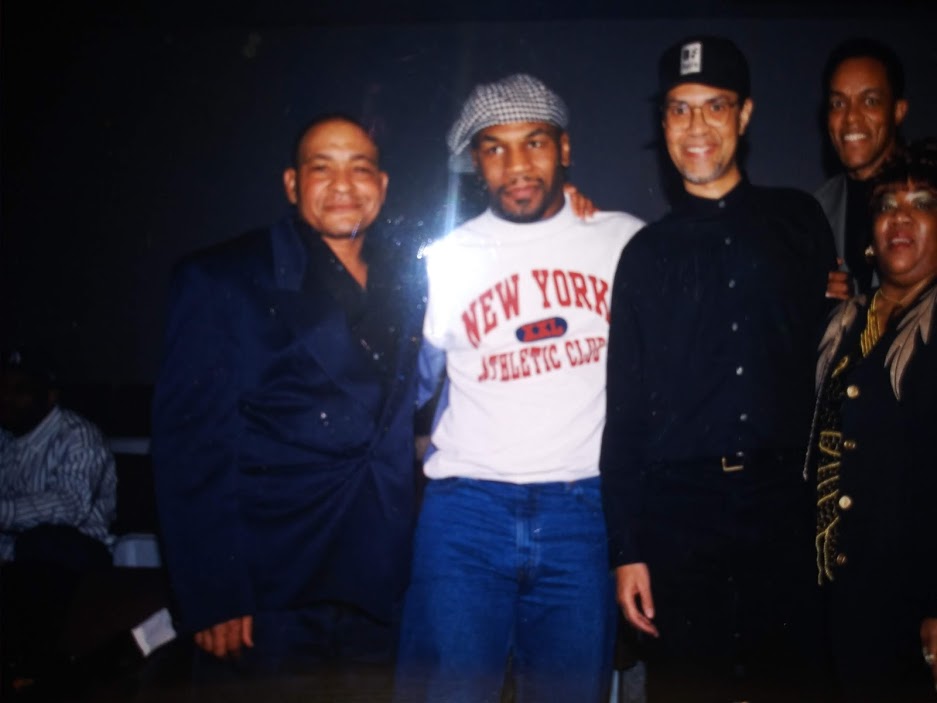 BB:     What do you think your individual strengths are as a writer? I mean writing music is not an easy task.
JP:    When I first started to write, I would often use flowery or overblown terminology to try to compensate for my lack of experience.  Bob would pull me to the side and say "Jackie just tell the damn story", from that I learned to stick to the point of what it is you are trying to say. But sometimes it depends on the type of material that is required.
BB:    "It's A Thin Line Between Love And Hate"  has been covered by so many famous artists, and the film title is taken from your hit song. The film grossed over 25 million in 1996. Did you all benefit from any of the profits?  Do you still receive residuals from the song?        
JP: I wish I could call it a Cinderella story and say it had a happy ending.  Yes, we did get a little bit of money, enough to buy a small house for each family but in hindsight very little. In fact, we should have gotten a percentage of the movie's 35 Mill instead of just a royalty for the song since the movie was based on the song. They even acknowledged it on the director's cut that the movie was based on an old-school song from the seventies.  My husband fought tooth and nail in every legal way that he could but our resources dried up so we tried to make the best of it for the sake of our families.
Don't get me wrong I wouldn't trade my writing skills for anything.  It is God's gift, but what I've learned is, it is called Music BUSINESS for a reason.  You must do the business first!
Get your copyrights, BMI,  and a good music lawyer if necessary.  Yes, I still get royalties and so does Richard but I was so young coming into the business and I had 3 children to raise. Richard had a wife and 5 kids however, speaking for myself I was a late bloomer in the business world even now I am still learning all the new technology and innovations in music.
The Spotlight is on Jackie and Robert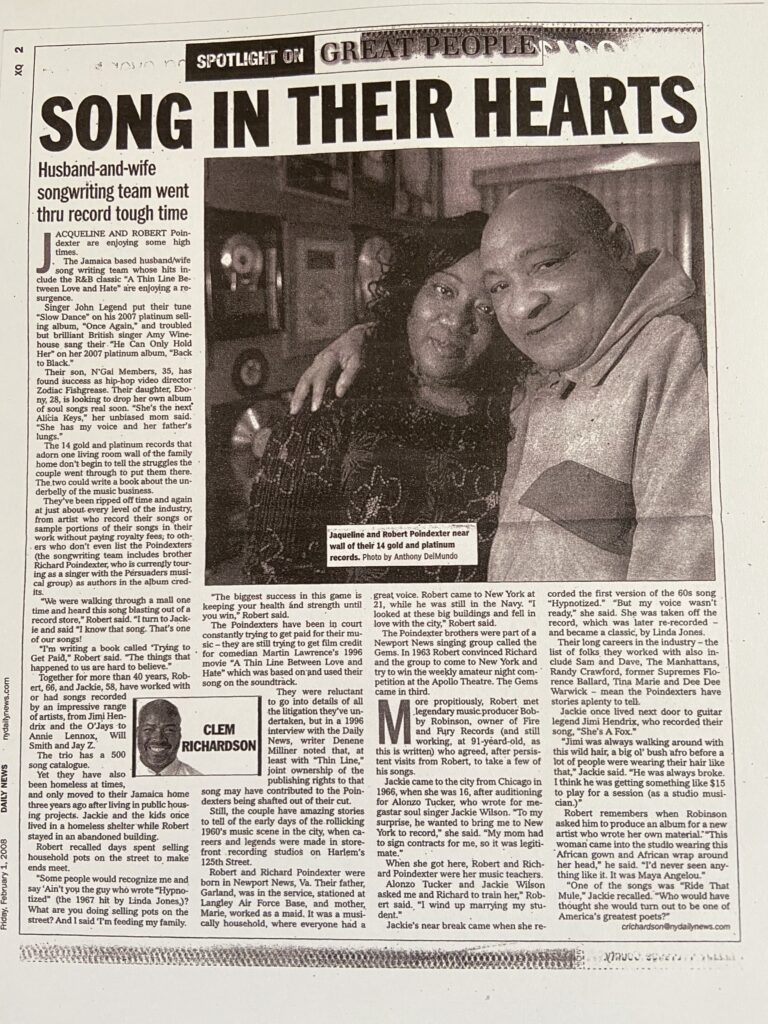 BB:   So, what's in store for the future that we can look forward to?
JP:      Today I am 72 years old and wiser, I am semi-retired and enjoying time with what is left of my family.  I lost Bob in July 2018  to a massive stroke after chasing Kanye West halfway across the country trying to serve him (but that is yet another story) and recently my oldest son Robert Jr died from pancreatic cancer on October 2nd, 2020.  I miss them both dearly.  Richard and his family now live in Florida but we contact each other often.  I have kept myself busy in the last few years with my work and tutoring my 12 yr old grandson Jahlonte who is my joy.  My youngest son Ngai Pka "Zodiac Fishgrease" is a well-known video director and he directed Jahlonte's last video recently called "Ghetto Rhyming"  I wrote it and produced it.  My latest song is on a new artist "Lady Tye" called Queen's Anthem that I co-wrote. I think it is picking up a following. Got my fingers crossed!  My daughter Ebony AKA Rain is an up-and-coming vocalist and bass player. She has the potential to be a successful artist on her own as a writer.   Oh yeah, "The Persuaders" are still around and doing gigs when they can but they have not recorded new music since the last one Bob and I did in 2013 called "Love Lessons" My future is to stay in good health and enjoy the rest of my life. There will always be some kind of music in it.
Jackie's grandson Jahlonte, in his Make Music N.Y performance video in the heart of Jamaica, NY