The rain and cool temperatures did not stop the music enthusiast from coming to this years 41st Jazz Festival in Saratoga, New York on June 23rd and 24th.  The Freihofer's Saratoga Jazz Festival takes place yearly at the Saratoga Spa State Park.  The park, which is a Historical Landmark is known for its beauty and distinct cultural resources.
Saratoga Spa State Park's Natural Beauty- Photography by Michael Rheubottom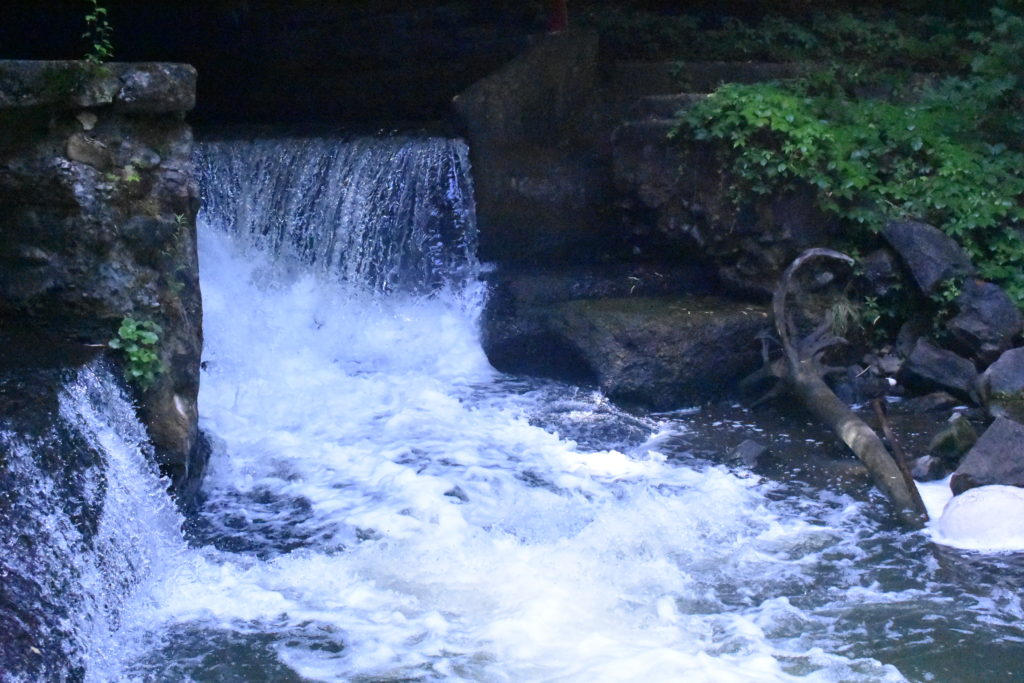 Although we didn't have time to see the entire park, the beautiful trees literally welcome you in, and without a doubt are spectacular. People were walking with much enthusiasm and excitement pulling carts with food, coolers, pop up tents, blankets, tables, and chairs so they could get a great spot on the lawn to hear and see some of the best world class jazz greats like Gregory Porter, Herbie Hancock, Jose James, Chris Botti, Christian Sands Trio, Jon Batiste, Mavis Staples, Terri Lyne, Esperanza Spaulding, and a host of many others.
Photography by L Bonz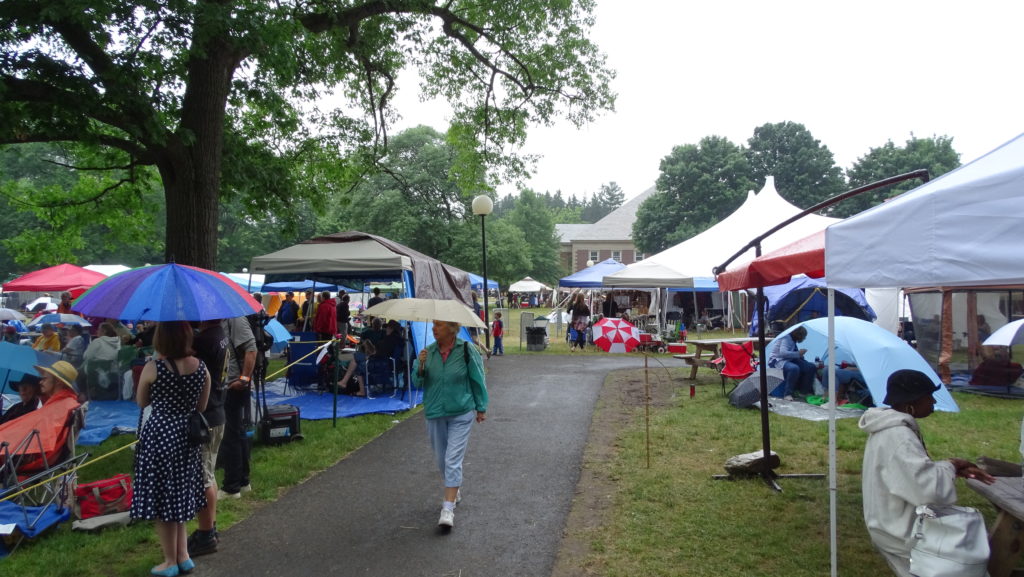 The sound of great music coming from two stage areas within this magnificent pleasure garden can easily catch your attention within the SPAC (Saratoga Performing Arts Center).  Depending on which entrance you come in from, driving or walking you can access both stage areas. The first stage area we had come across was the Lawn and Amphitheatre. This part of the venue is snuggled between pine trees and set at the base of a hill. There is plenty of seating and the Lawn can hold up to 20,000+ individuals,  the covered Amphitheatre seats 5000+people. Don't forget to stop by the half circle of food vendors, where the hamburgers, hot dogs, fries, Salted Pretzels are to die for.
The Lawn outside Amphitheatre-Photography by L Bonz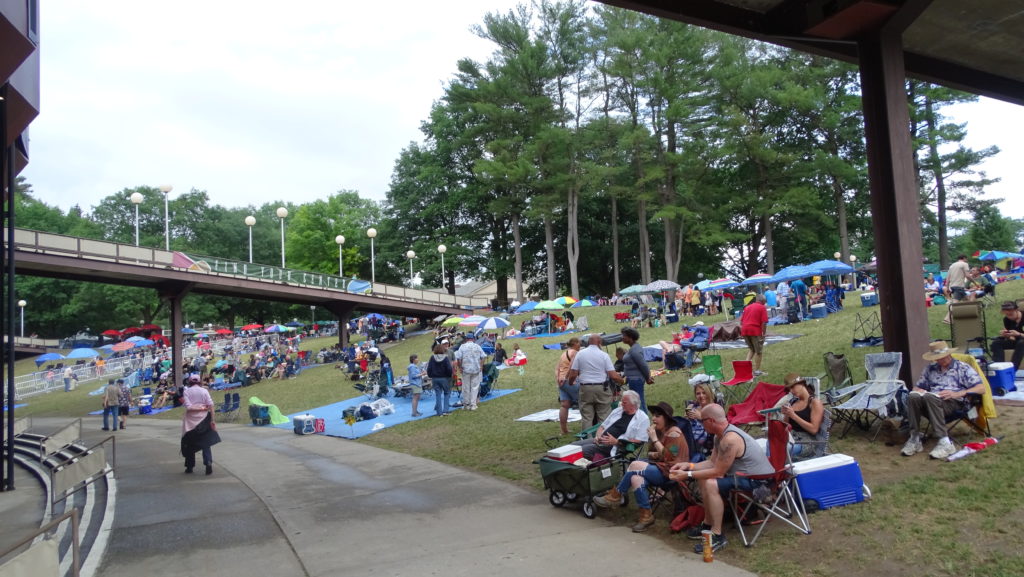 THE ARTIST
"THE JAZZ PASSENGERS " @ THE "CHARLES R. WOOD STAGE" – PHOTOGRAPHY BY MICHAEL RHEUBOTTOM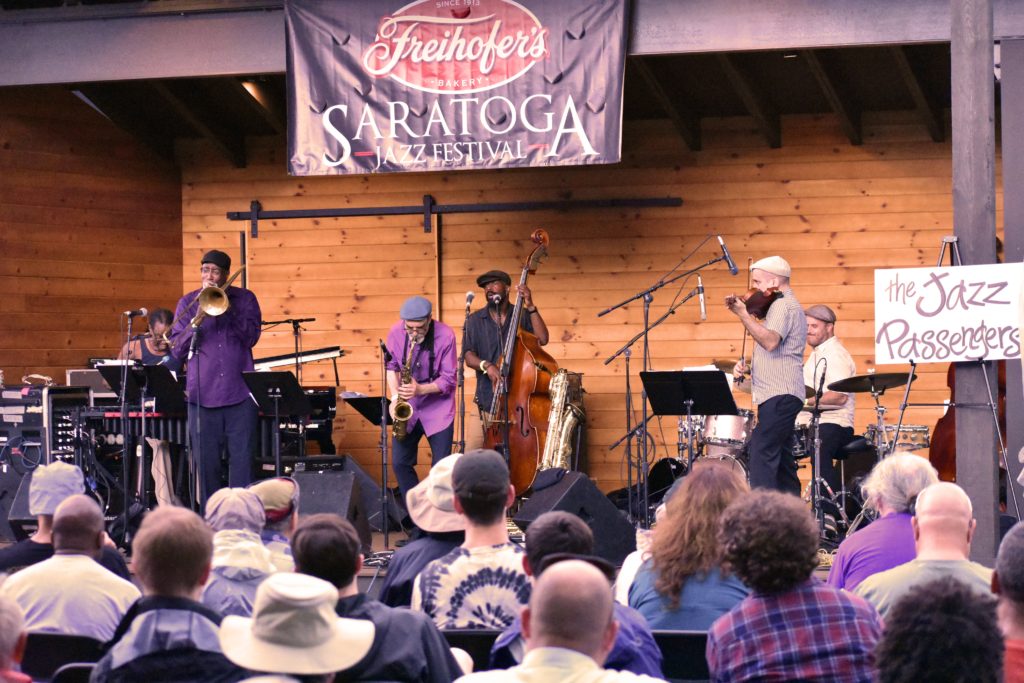 OMG, I have been in love with "The Jazz Passengers" ever since they performed on the David Letterman Show featuring "Blondie" in the late 90's!  Of course, on The Charles R. Wood Jazz Discovery Stage,  they outperformed themselves with one of my favorite musical pieces, "Tikkun" which had a mixture of bold beats and a little flavor of New Orleans sound. I just loved it when Roy Nathanson and Founding member Curtis Fowlkes did a rendition of Peaches and Herbs "Reunited". What an encore they were given!  Jazz Passengers Tour Dates   https://jazzpassengers.com/events/category/shows/
MAVIS STAPLES PERFORMING @ THE AMPHITHEATRE-PHOTOGRAPHY BY MICHAEL RHEUBOTTOM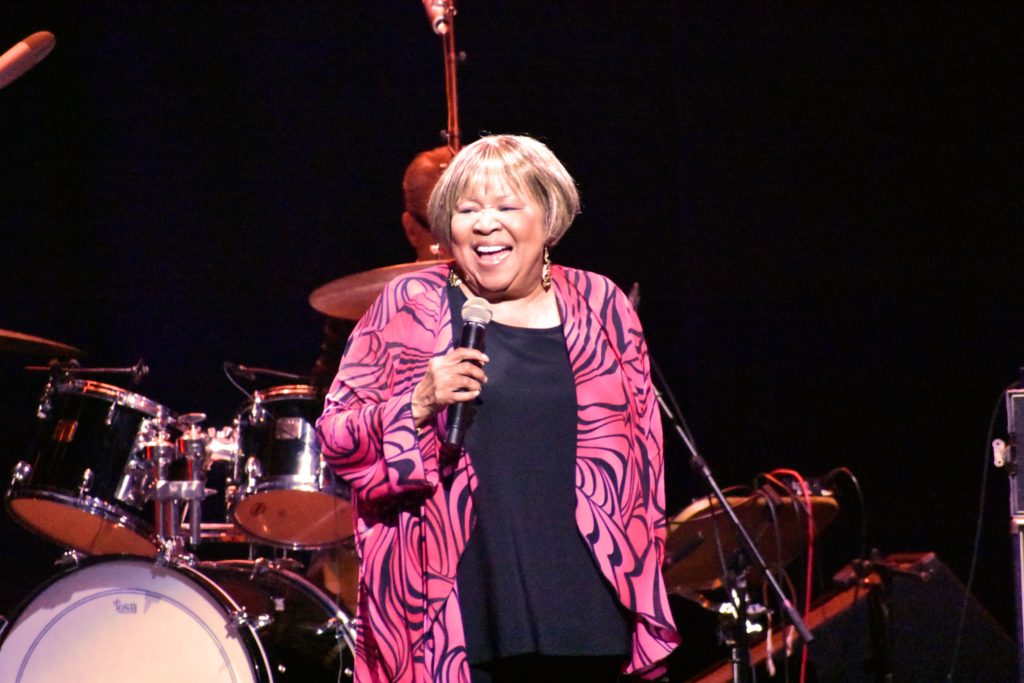 Mavis Staples definitely taking the audience back with " I'll Take You There", "Respect YourSelf" and "Let's Do It Again". The 78 years young R&B & Gospel Singer Activist displayed the same energy at this year's Festival as she did when she was singing with the "Staple Singers. She sang, she preached and she danced. Her spirit got the audience up and singing and by the time she finished she was given a standing ovation. Through her music, she sent high powered messages about politics, religion, and love. It was great!  Mavis Staples Tour Dates  https://www.mavisstaples.com/
HERBIE HANCOCK @ THE AMPHITHEATRE- PHOTOGRAPHY BY MICHAEL RHEUBOTTOM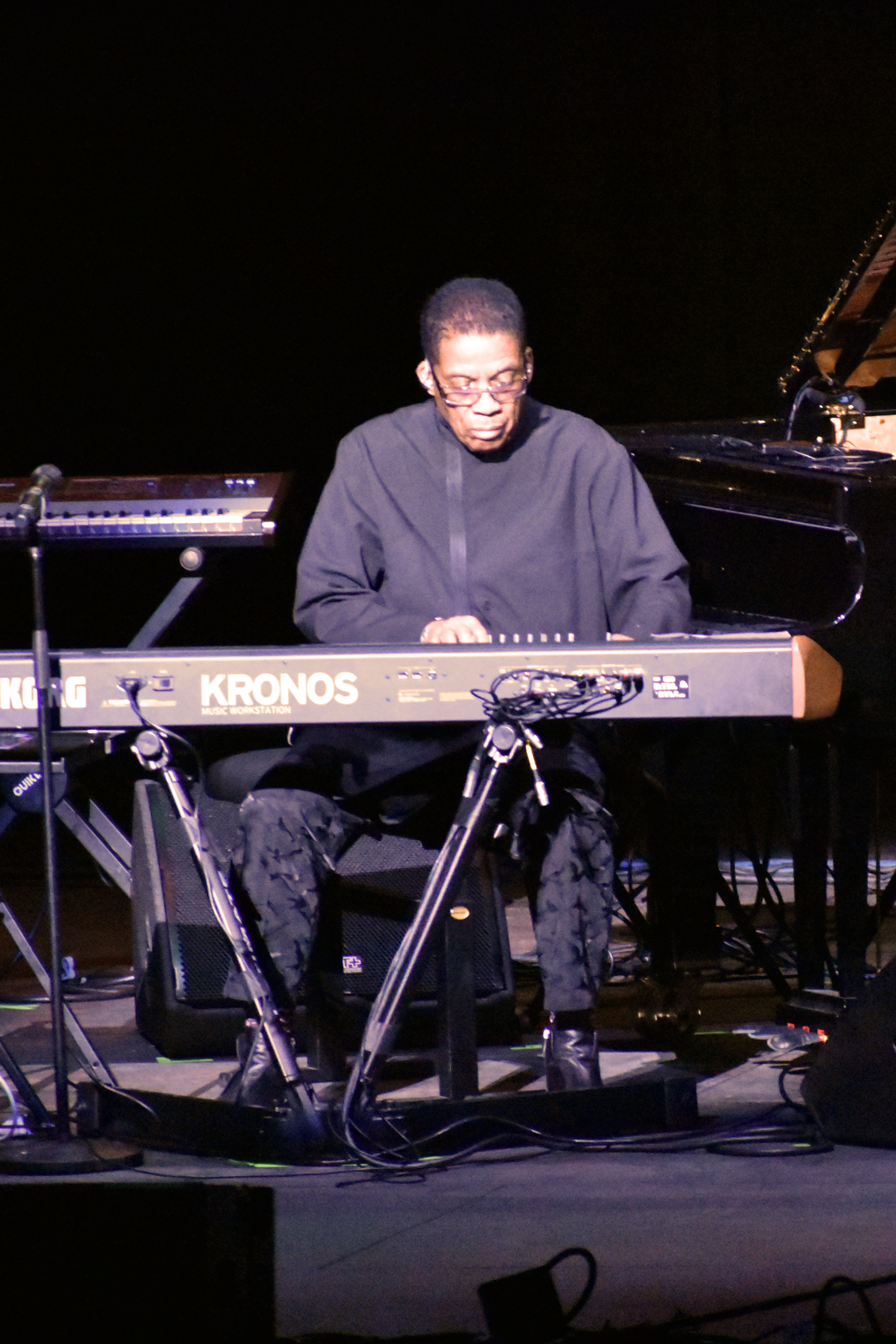 I couldn't wait to see the Legendary Herbie Hancock perform his upbeat and uplifting medley of Jazz favorites. Too many to name, but Hancock who was a child prodigy played a number of musical instruments at this year's Festival. He is a man who wears many hats and as a pianist, keyboardist, bandleader, composer, and actor. When Mr. Hancock performs, he will take you on a musical journey that mesmerizes you by his effortless flow of musical talent. Hancock received two standing ovations from his audience for his finale song  "Chameleon" which had the audience and I dancing in our seats. As usual, another Awesome performance by the incredible Herbie Hancock!  Herbie Hancock Tour dates:  http://www.herbiehancock.com/tour/
JON BATISTE WITH THE DAP-KINGS@ THE AMPHITHEATRE -PHOTOGRAPHY BY L BONZ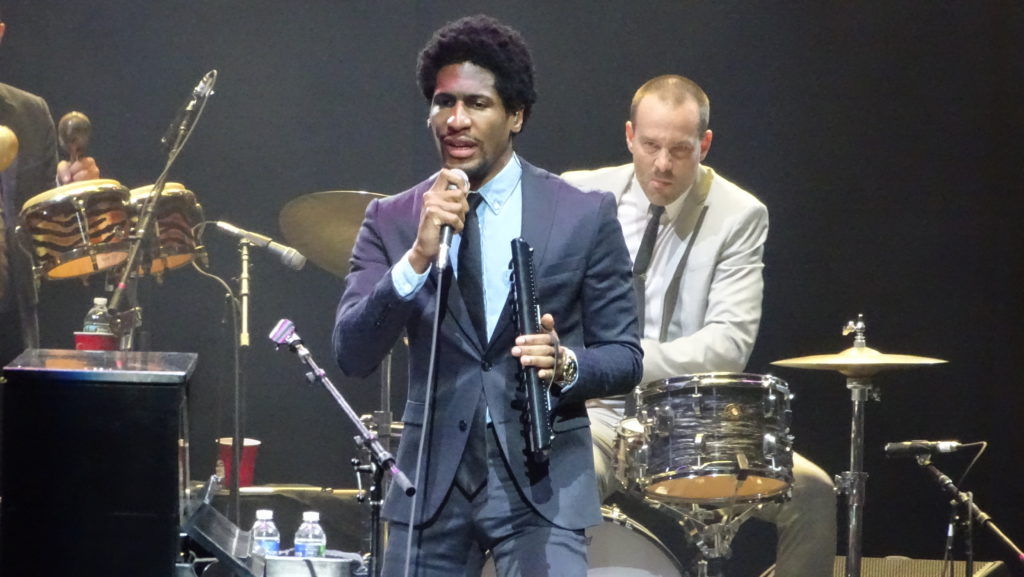 "Jon Batiste" closed the Festival out at  "The Amphitheatre" Sunday evening giving an outstanding performance with the Dap-Kings bringing the audience to their feet with his Jazzy style, New Orleans sound and Soulful vocals. I didn't want the night to end. He opened up with "CornBread" and followed it up with a cheery, inspirational collection of Allen Toussaint's music.  
THE DAP-KINGS PHOTOGRAPHY BY L BONZ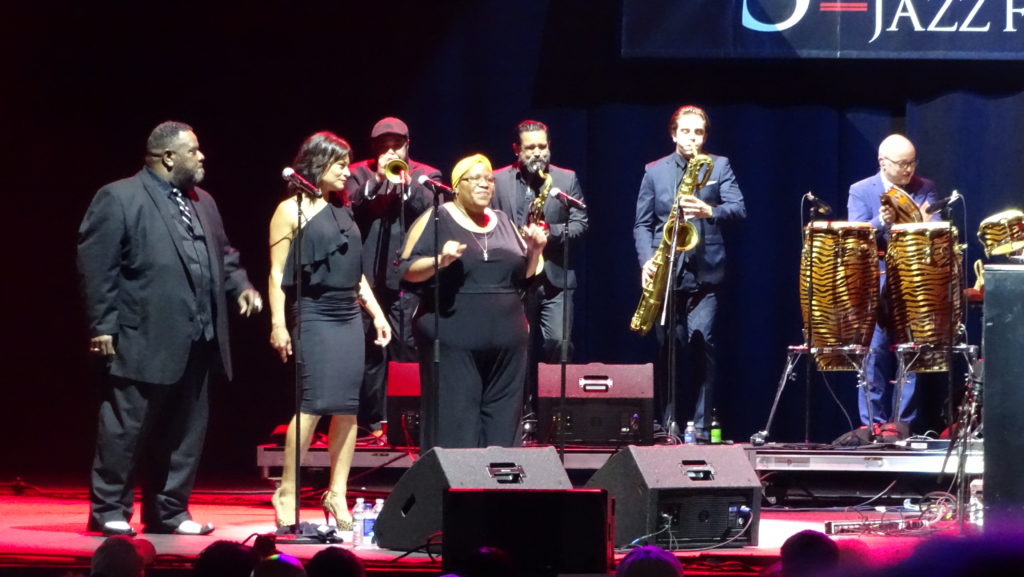 Jon and "The Dap-Kings sent the audience a word of encouragement singing,  "The Light Shines Brightest In The Dark" and mentioning about,"The Times we are Living In". They brought such joy and emotion to the crowd that I could feel myself becoming teary-eyed.   Jon Batiste Tour Dates:  https://www.jonbatiste.com/live  
JOSE JAMES CELEBRATES BILL WITHERS @THE AMPHITHEATRE-PHOTOGRAPHY L BONZ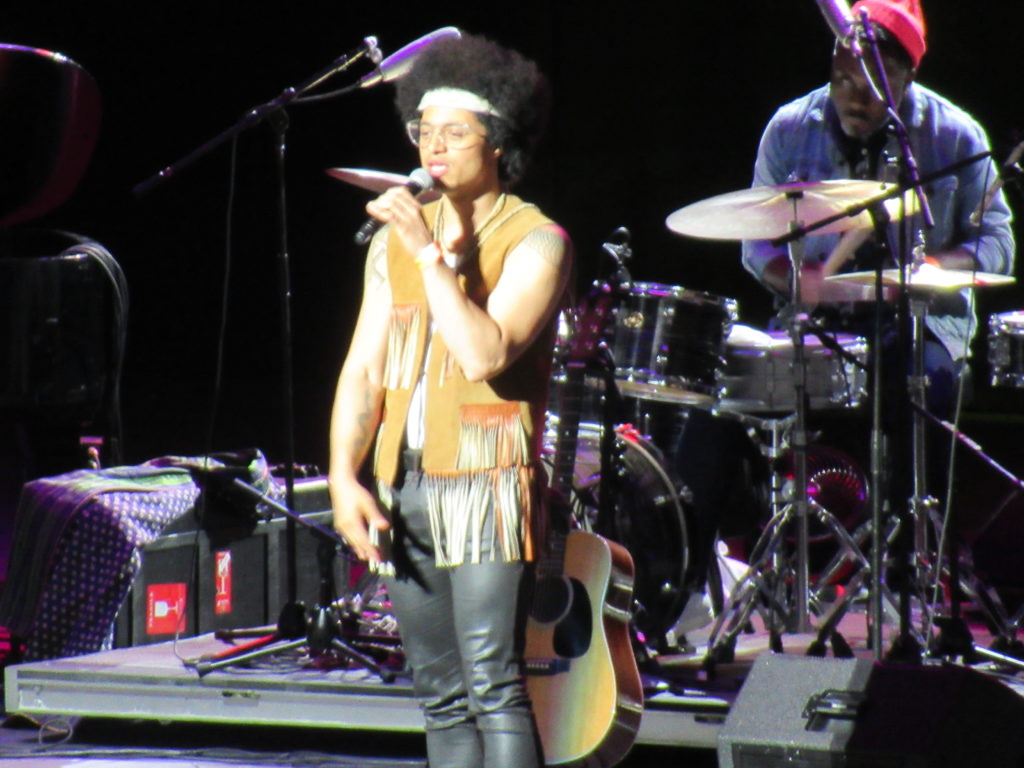 OMG "Just The Two of Us and Lovely Day", were some of the Bill Withers songs Jose James sang!  He really took the audience by surprise when he did a tribute to Bill Withers. This young musical talent has a way of mixing jazz and hip-hop to create his own unique blend and style. I loved it, even though, a female audience member behind me debated with her husband about preferring his Tribute to Billie Holiday better. Unfortunately, I have nothing to compare it to, I have been a fan of  Mr. James since I saw him at the Newport Jazz Festival in 2016 and found him to be a very talented singer and performer. But unfortunately, I didn't get to see his Tribute to Billie Holliday. But I will, thank goodness for YouTube. So, Kudos to you Mr. Jose James.  Jose James Tour Dates:   https://www.facebook.com/josejamesmusic/app/123966167614127/
CHRISTIAN SANDS TRIO @ "THE CHARLES R. WOOD STAGE"-PHOTOGRAPHY BY MICHAEL RHEUBOTTOM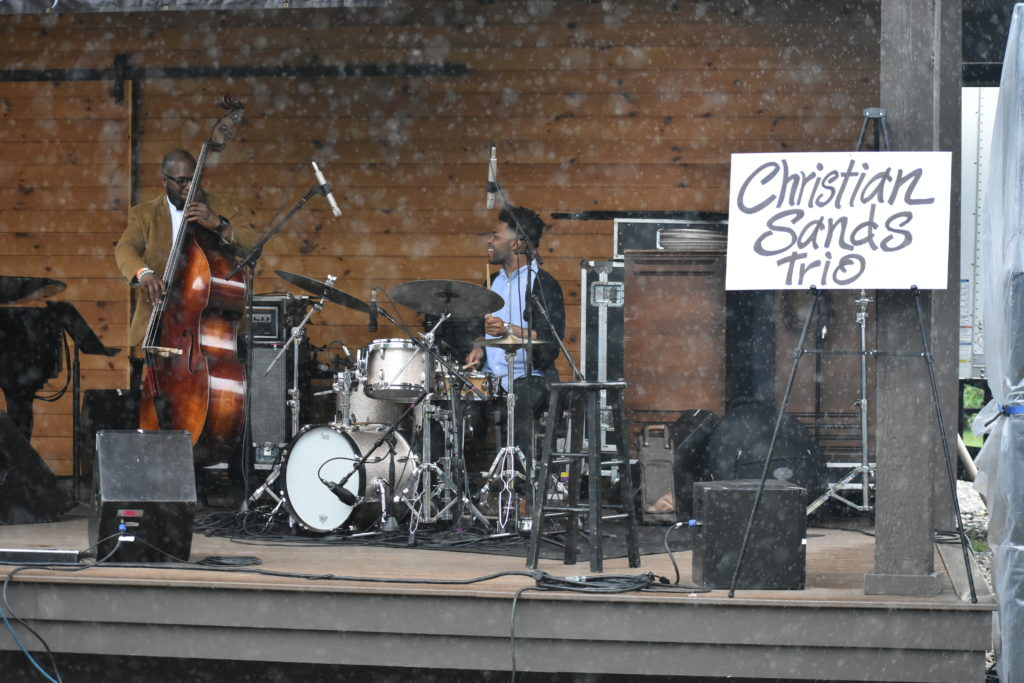 All I can say about Christian Sands is, he is a musically gifted spirit and a five-time Grammy nominee who was mentored by pianist Billy Taylor. No wonder he is so darn good, his range of style is very diverse from Hip-Hop to Latin and Blues. He joined forces with his Trio and they were unstoppable, drummer Jonathan Barber and Bassist Eric Wheeler made their debut at this year's festival. They both were a knockout!  Christian Sands tour  http://www.christiansandsjazz.com/live/
ANAT COHEN TENTET @ THE AMPHITHEATRE – PHOTOGRAPHY BY MICHAEL RHEUBOTTOM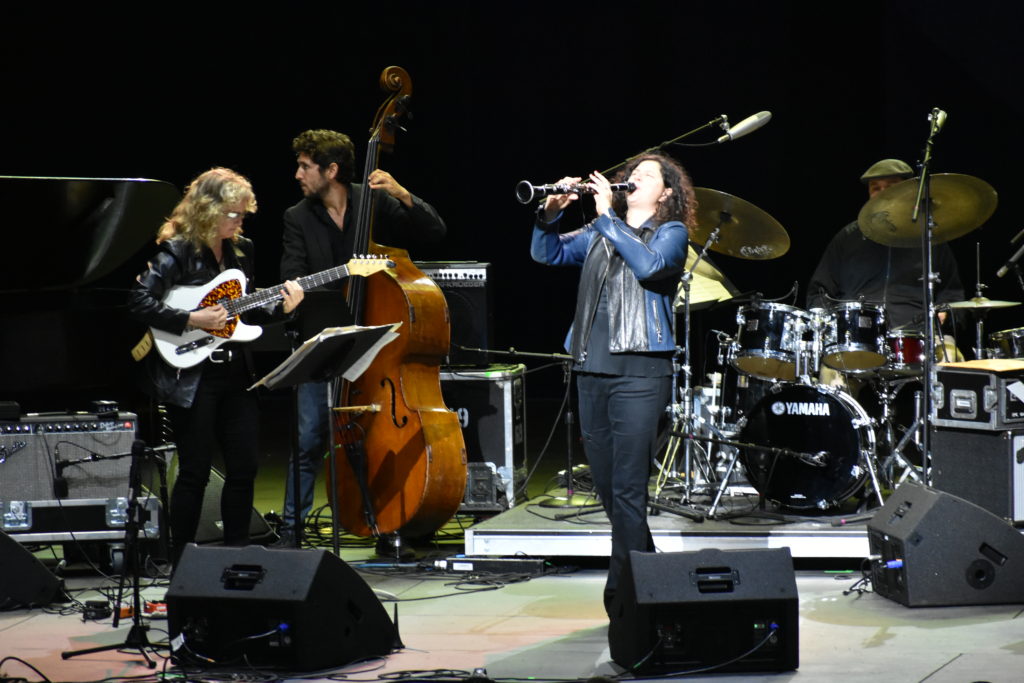 Ms. Anat Cohen won my heart and soul with her music. Seeing her perform for the first time made me an instant fan and you will become one too!   She has been voted the best Clarinetist 9 years in a row and has toured the world with her quartet at the Newport, Umbria, SF Jazz and the North Sea jazz festivals as well as performing at clubs like New York's Village Vanguard and at Columbia University's prestigious Miller Theatre. Anat Cohen is as Good as it Gets at the Saratoga Jazz Festival and I cannot wait to see her perform at this years Newport Jazz Festival in August! Anat Cohen's Tour Dates:   https://www.anatcohen.com/schedule/
GREGORY PORTER@ THE AMPHITHEATRE- PHOTOGRAPHY BY L BONZ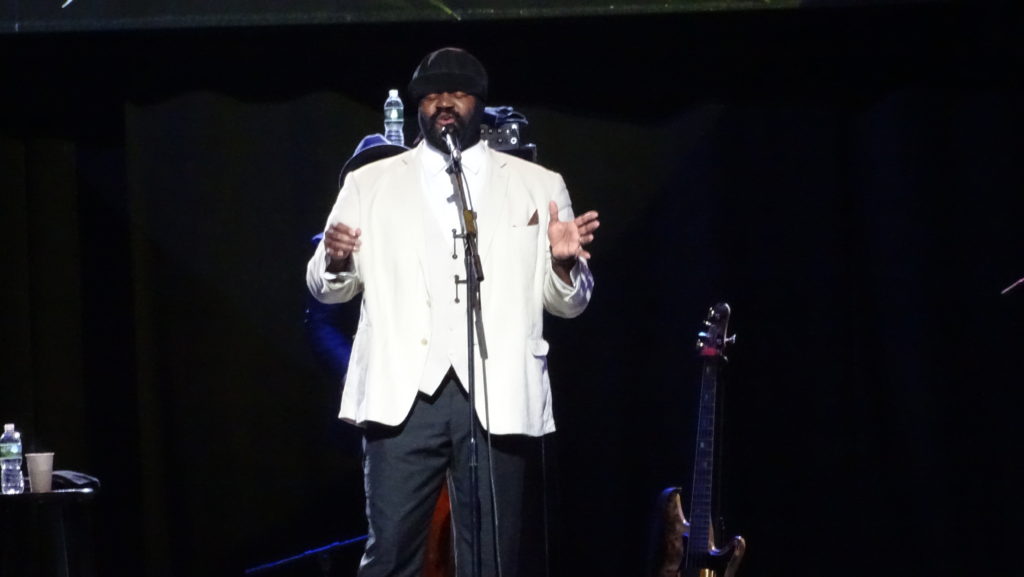 Loved Loved Loved Gregory Porter, I became an instant fan of his over a year ago. I loved his rendition and range of  "Nat King Cole songs from his new album called "Nat King Cole and Me" and bringing to life "Mona Lisa". The Audience screamed when he did a singalong in "Keep Your Head To The Sky" to a "Majestic" "Nature Boy" and then gliding into "When Love Was King".  He too received two standing ovations.  Gregory Porter Tour Dates:  https://www.gregoryporter.com/?splash=2
GREGORY PORTER@ THE AMPHITHEATRE-PHOTOGRAPHY BY MICHAEL RHEUBOTTOM
TEN: TERRI LYNE, ESPERANZA, AND NICHOLAS -PHOTOGRAPHY BY MICHAEL RHEUBOTTOM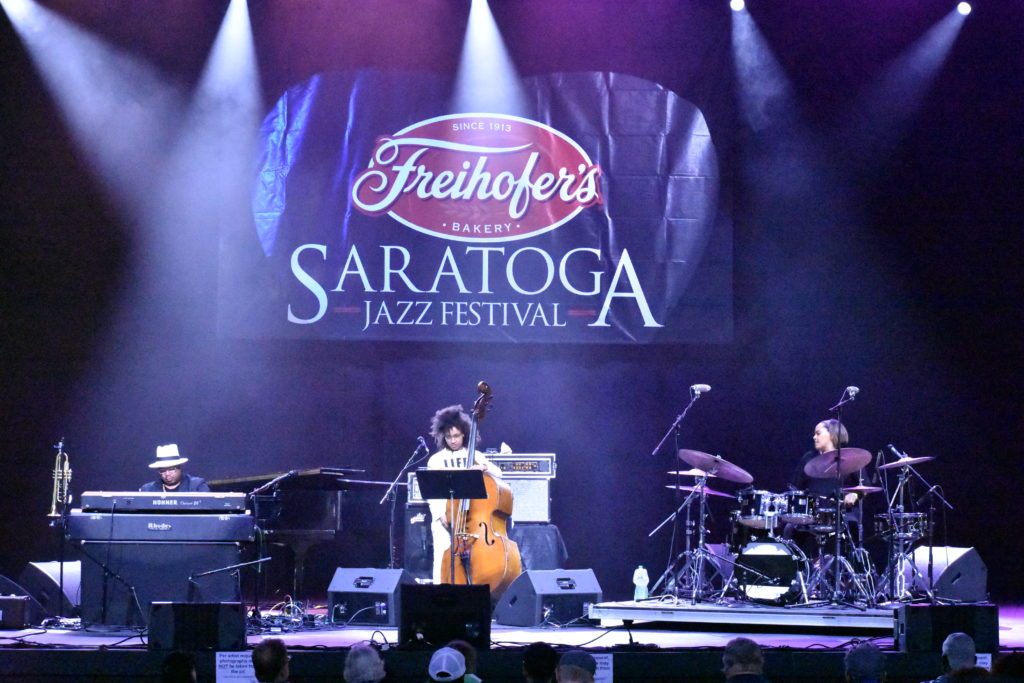 Bassist and vocalist Esperanza Spalding, drummer Terri Lyne Carrington and trumpeter-Keyboardist Nicholas Payton (Known as "Ten") are three very talented musicians who put the Saratoga Jazz lovers in a state of euphoria along with a little bit of improvisation at this years' Jazz Festival.  They took the audience through a musical journey on the last day of the festival, what an encore they received after such a stunning tribute to the late great Geri Allen's "Unconditional Love".
ESPERANZA SPALDING PERFORMING@AMPHITHEATER-PHOTOGRAPHY BY MICHAEL RHEUBOTTOM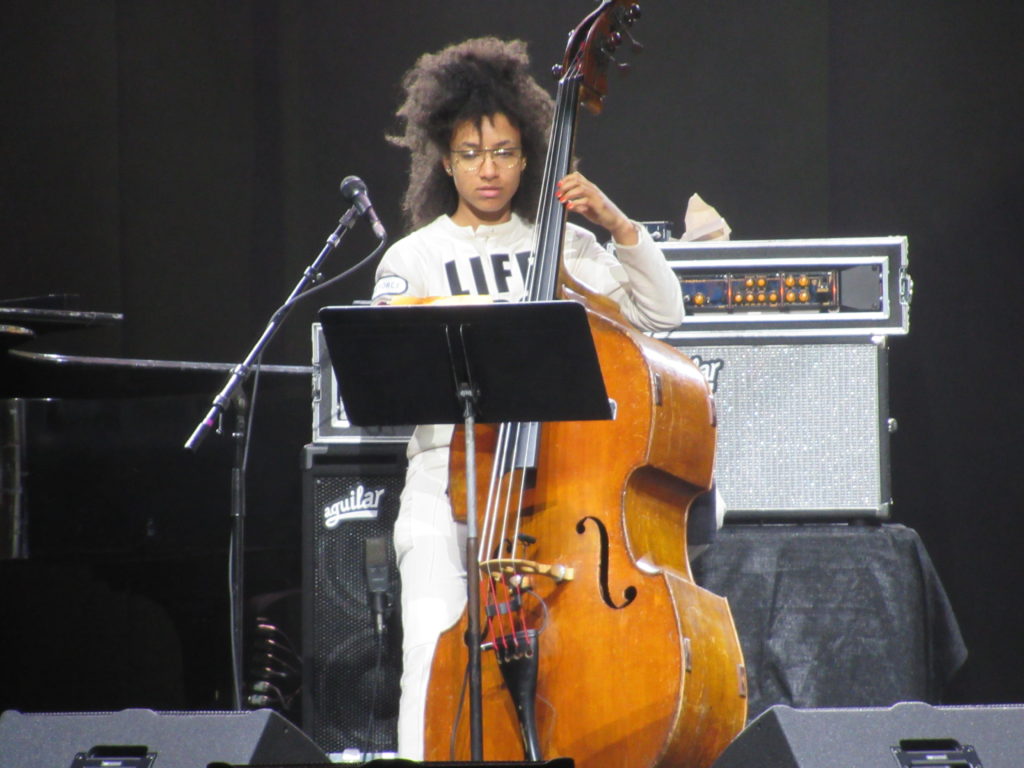 Esperanza Spaulding is and continues to be the fresh face of Jazz.  She has such a Jazzy, songbird voice, the audience had become mesmerized by many of the wordless songs. She even led the crowd in her "Life Force sweatshirt" chanting "Geri in Heaven" in honor of the late Geri Allen.  Esperanza's Tour Dates @  http://www.esperanzaspalding.com/shows
Terri Lyn Carrington performing @ Amphitheater-Photography by Michael Rheubottom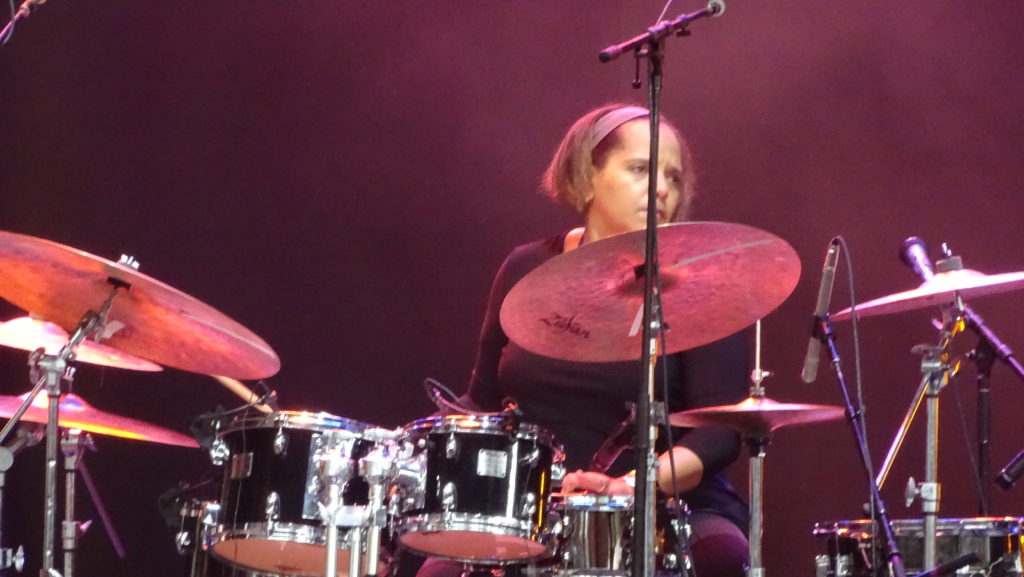 Terri Lyn is a natural on drums, she is also a composer, producer, and educator. She has been doing it all for the past 40 years as well as at this year's Jazz Festival. She is also a three-time Grammy winner who made history as the first woman to win a Grammy Award for Best Jazz Instrumental Album in 2013.  Her live tour dates are: @ http://www.terrilynecarrington.com/live
NICHOLAS PAYTON ON CLAVINET @ AMPHITHEATER –PHOTO BY MICHAEL RHEUBOTTOM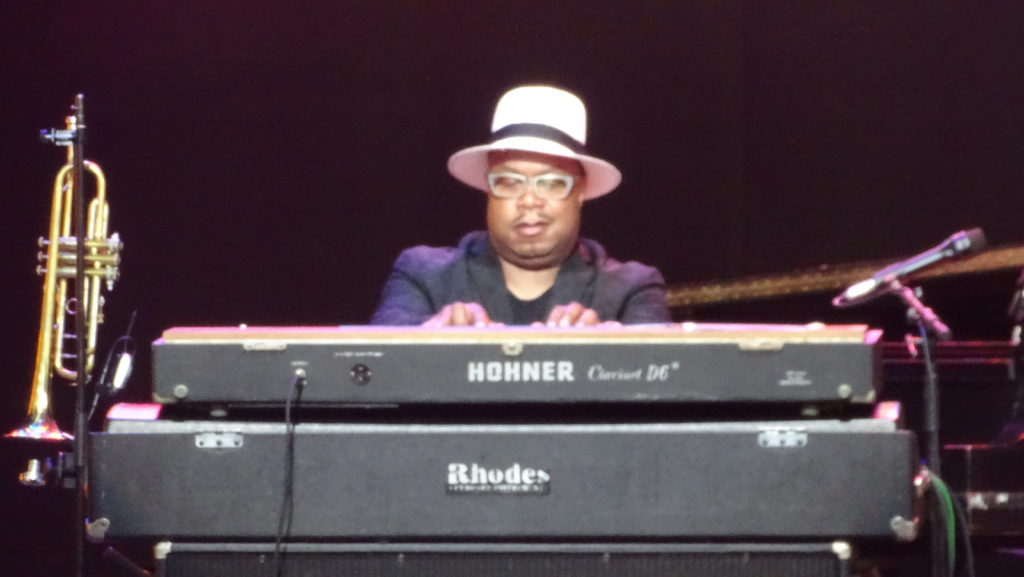 Nicholas Payton is a great musician. He too turned it up at this year's jazz festival in Saratoga Springs. Payton is a  phenomenal Trumpet player as well as a multi-instrumentalist. His blend of instrumental pieces coupled with Esperanza's Bass and Terri Lyn's drums brought together a sound the audience will never forget at the Jazz festival. Check out his world tour @ http://www.nicholaspayton.com/tour/
I want to thank the Saratoga Jazz Festival for such a great line up of spectacular musical Artist. It was especially an honor to be there to celebrate their 41st Festival and to be able to listen to all forms of musical expression and jazz.  This is an event that has nurtured the careers of many musical artists and done more to delight jazz fans from all over the world. Until next year and as the great President Clinton once said,  Jazz is a music born of struggle but played in celebration".